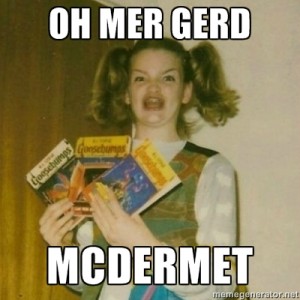 On Friday I went to the pool hall with some coworkers to celebrate our accreditation as McDermott distributors. We usually go after work on Tuesdays, the bar has good bar food and is usually empty, so it's a good place to unwind before going home to our families. I usually wind up paying since I am the first to arrive, on Tuesdays the pool hall charges $8 an hour, which is a pretty fair price. We go so often, some of the guys were thinking of getting some cues.
My buddy Roy and I are often talking about why a personal cue is such a good investment, after all slate pool tables cost at least $2,000 and that doesn't include shipping and installation. If you can't afford your own pool table, why not get your own cue? I equate it to buying a jersey for your favorite team, or getting a shirt with French cuffs. You do it because you want to show people you're a fan, also having your own tools will help your game.
I am an avid PC gamer, along with my billiards hobby. One of my favorite programs is Steam, a digital distribution platform, it has a lot of other features besides letting me spend money without putting on pants. One of those features is tracking your play history, the lifetime of hours you have wasted on a specific game you downloaded. I really like this feature because I am big on getting an entertainment return on my disposable income. Was that $60 game worth it? Well if I get at least X hours of entertainment out of it, it was.
So on Friday, we wound up playing for about 3 hours. The girlfriend wanted drinks, I wanted food, I bought a round for the guys, and then we left. The bill came out to about $60, of that $30 was spent on the table itself. On the weekends, the pool hall charges $10 an hour for a table, premium cost, for premium play time. We soon realized how premium when our sleepy little pool hall, turned into a busy bar filled with students. My girlfriend was tipsy, Roy was complaining about the music, and another coworker swore that if the cue was straight he easily would have beaten us. We decided to leave at that point, its about a half hour drive home and my lady friend passed out in some uncomfortable position about halfway to our house.
I always think of pool tables as these expensive things. Way too pricey for anyone who is part of the 99%. Afterall, how can I see a return on my entertainment investment with something that costs two grand, when I could play at a bar for $10 per hour? Then I logged into Steam, and saw my play time for a game called Team Fortress 2:

291 hours! That's a little over 12 days playing a game that features a Scottish cyclops, an androgynous pyromaniac, and an Australian serial killer who enjoys his job. Now, that was all time well spent I assure you. I play Team Fortress with my girlfriend, and several other friends, I keep in touch with folks over TFII (as the kids call it). The point is I really love TFII, it's always on my computer, and one of the first games I install when I get a new PC.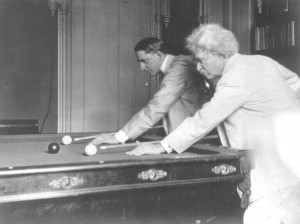 Now, imagine if I loved pool the same way I love TFII. All of a sudden it doesn't make sense to play at the pool hall. All of a sudden it makes sense to have my friends come to my house, and bring a six pack with them. The booze is cheaper here, the music is better, there are no frat-guys, and the cues are straight! At $10 an hour, times 291 hours, is more than enough to buy a pool table and see my entertainment "investment" yield returns.
More and more I am realizing that billiards is a game that doesn't demand deep pockets (only 6), and that we spend more time doing the things we love, than we realize. We can all think of how long we spend doing the stuff we hate, but how often do you reflect on the hours you spend doing the things you love? Maybe I will go without pool for a few months, and see how far I get towards a pool table, saving a little to start and then adding more and more to the fund as it builds up. With the financial plan slowly forming, I have to consider convincing the girlfriend which is a much tougher proposition.